PPACA Slide 1
As President Barack Obama enters his last year in office, CFO takes a look back at the Patient Protection and Affordable Care Act (PPACA), a major focus of debate since it became law in 2010.
The following articles give a look at the PPACA from the perspective of finance chiefs, and how it impacted the finance function.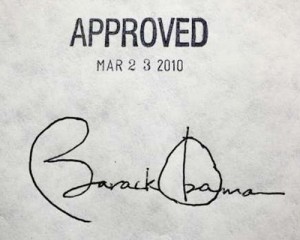 PPACA Slide 2
In 2011 CFO published this article acknowledging that a federal mandate of the PPACA is considered by some to be unconstitutional because those who cannot afford health-insurance will face a penalty from the IRS.
In it, challengers insist that the mandate's requirements fall outside of the federal government's purview to regulate interstate commerce; while the Obama Administration claims the Interstate Commerce Clause of the Constitution affords Congress the authority to mandate individual behavior.
In the end the Sixth Circuit Court of Appeals upheld the reform law, declaring the mandate to be constitutional.
Find out in the full article: Mandate Mayhem
PPACA Slide 3
In 2012 CFO interviewed CFOs, health-care attorneys, and benefits consultants on the PPACA's effect on the compliance and decision making processes within their organizations.
The biggest issue addressed in these interviews was that employers who have to pay amounts they cannot afford into healthcare must then sacrifice the payroll amounts going into their employees' pockets.
Another concern is the "Pay or Play" decision which states that employers with more than 50 employees who decide to forgo offering health insurance will pay a penalty of $2,000 annually per employee.
Full article: Stunned CFOs Now Must Focus on Complying with Health-Care Act
PPACA Slide 4
In 2013 CFO published this article on whether or not the PPACA will prompt employers to stop providing health insurance to employees and their families as well as the major changes that employers will face.
Further discussed is how the PPACA will save employers money on health insurance plans because individuals will now qualify for subsidies on health insurance.
Another employer benefit is the fact that health benefits will no longer be as crucial to talent acquisition.
Full article: The Insured and the Unsure